Control Your Home From Anywhere!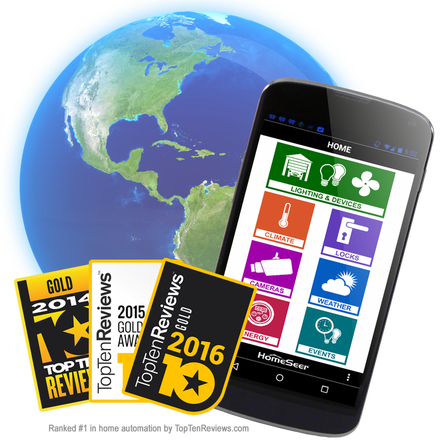 A Smart Home Controller for Every Need & Budget!
Other companies offer a "one-size-fits-all" approach to building a smart home.  At HomeSeer, we understand that needs and budgets can vary quite a bit from one person to the next.  That's why we offer a complete line of smart home controllers starting at just $199.95.  All systems include our award-winning HS3 home automation software. 
Control Everything at Home!
Control lights based on time & occupancy!
Control thermostats based on schedules & occupancy!
Ensure entry doors are closed & locked remotely!
Monitor video cameras with your phone or tablet!
Automatically shut off water when leaks are detected!
Keep tabs on your secondary home or rental property!
Receive spoken alerts, announcements & reminders!
Control energy costs based on usage and projections!
Control and program your home by voice!
Ensure garage doors are locked before bedtime!
Control audio & video equipment around your home!
Detect vehicles entering or leaving your driveway!
Customize your smartphone or tablet screens
Completely power down audio & video equipment and other appliances at night or when not in use!
Your Smart Home is Always Within Reach!
Our mobile app gives you complete control of your home from anywhere in the world. Simply download our free HSTouch app to the Android or Apple mobile device of your choice, link it to your free "MyHS" remote access account and you'll be able to monitor and control your home from anywhere with any WiFi or cellular data connection. 

Need more flexibility? Use our optional HSTouch Designer to create your own mobile projects using custom graphics and designs.  Learn More
Amazon changed the game for voice activated home control with the introduction of their cloud-based Echo product in 2015. The Echo includes a sophisticated multi-element microphone technology that focuses on human speech while filtering out background noise. Our HomeSeer integration "skill" is designed to work with that technology for voice activated control and event creation from just about anywhere in your home!  Learn More
Compatible with Scores of Other Smart Home Products, Services and Apps!
IFTTT is an free optional web service that allows users to create "recipes" to integrate the apps, products and services they love and use everyday. Activate our HomeSeer channel on IFTTT and you'll be able to do some pretty amazing stuff!
Safer & More Reliable than "smart hubs"!
Fact: Our "HomeTrollers" are internet-independent home automation controllers that provide full-time (24/7) automation and access to your home. With HomeSeer, your personal information is never stored in the cloud and your home will always be automated, even during an internet outage. 
Fact: Competing "smart hubs" store your personal information in the cloud and are totally reliant on the internet for automation and access to your home. If your internet connection is interrupted, all automation features and access to your home are disabled!
HomeSeer Smart Home Lighting Products for Every Need!
Want to automate your lighting? HomeSeer can help! Our light switches and plug-in modules are Z-Wave Plus enabled for the highest level of performance and reliability. All dimmers and switches feature instant status when controlled manually and include unique double-tap, triple-tap and press & hold event triggers. Learn more
Mobile App Custom Design Tool Available!
HSTouch Designer
 allows you to fully customize our mobile app! Modify our existing "projects" or create your very own from scratch. With HSTouch Designer, you can use your backgrounds, buttons and graphics.. and your imagination! 
Learn more