Our newest plugin integrates seamlessly with Zigbee2MQTT to add support for more than 3,000 Zigbee devices from hundreds of companies. Zigbee Plus installs with just a couple clicks and works on HomeSeer HS4-powered hubs and software systems.
Zigbee is low power mesh network technology that uses the universally accepted 2.4 GHz communication band. Zigbee chips are widely available and competitively priced, making the technology a popular choice for companies looking to produce inexpensive products for commercial use and for the DIY smart home market.
Zigbee2MQTT (Z2M) is an open source project licensed under the free GNU General Public License 3. This project is very active and is well maintained with new devices being added to it continuously. Our plugin integrates tightly with Z2M ensuring automatic compatibility with new devices as soon as they are added to the project.
When you install the plugin, the full Z2M app will also install. This gives you direct access to all Zigbee device information and settings.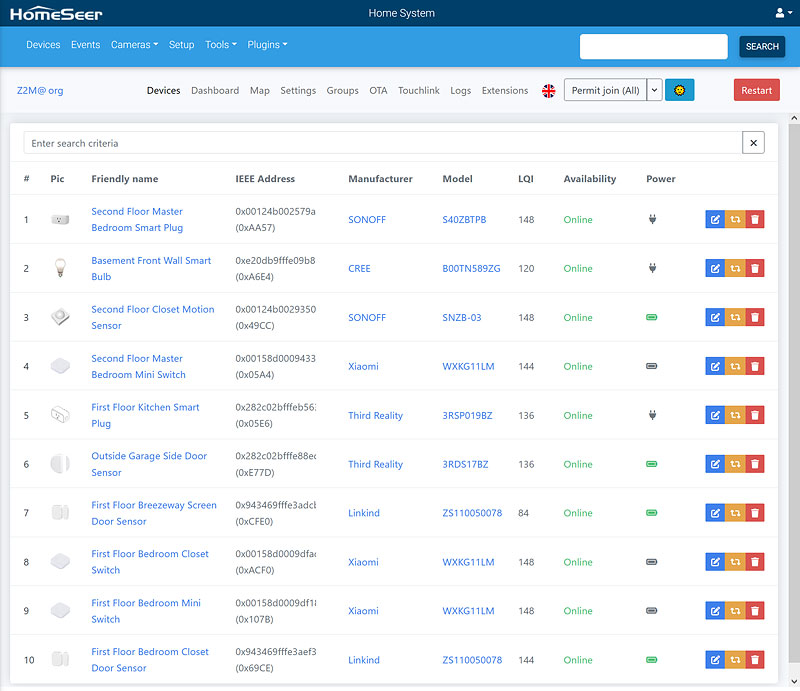 A built-in map feature generates a graphical view of you entire Zigbee network.
As mentioned above, more than 3,000 devices are supported by Z2M and any of those may be added to your HomeSeer system. The example below shows an Aqara wireless mini switch with all of it's features exposed.
Installation is quick and easy using our online setup guide. You'll need the following:
Have questions? Contact us directly of post a question to our community of users on our forum!